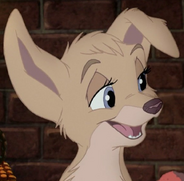 Angel is a female character from the 2001 sequel to Lady & The Tramp, Lady & The Tramp 2: Scamp's Adventure.
About Her
Angel is from Lady & The Tramp 2. After PrinceBalto saw the movie, Angel quickly became a favorite character of his. She is a beautiful mutt puppy with golden fur and blue eyes. She is the girlfriend of Scamp, Lady & Tramp's son. Prior to meeting Scamp, she was, sadly, abandoned by various owners for different reasons, including moving, a new baby and allergies. By film's end, she is adopted by Scamp's family.
Roles
She is an alien street urchin
She is a lion cub
She is a superhero dog
Portrayal
In Brainy & The Krypto II, Mammoth Mutt from Krypto The Superdog plays Angel.
In fanfiction
In PrinceBalto's crossover, she is Solomon's adoptive sister and the aunt of his pups. In Disney Universe, she is owned by Rapunzel in place of Pascal.
Gallery