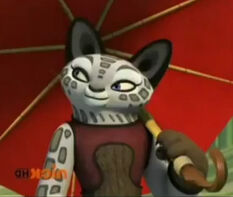 Song is a character from the TV cartoon Kung Fu Panda: Legends Of Awesomeness.
Origins
Song made her first and only appearance in the Legends Of Awesomeness episode Ladies Of The Shade.
Roles
She is a sailor scout
Harley Quinn in Bathound: The Animated Series
She is a villain
In PrinceBalto's KFP Remake
Song is a main character in PrinceBalto's remake of Kung Fu Panda. Here, she is Po and Tigress' training companion. She is also Tigress' adoptive sister. Because of her gloves, her nickname is "Mittens". Her boyfriend is Peng.
Gallery